About Laminated Beams Ltd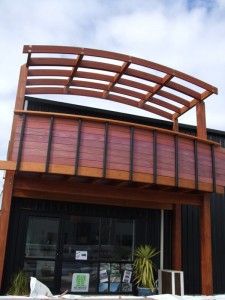 We have been providing laminated beams New Zealand wide since 1989.
Laminated Beams Ltd's founding philosophy has never changed. By using a proven methodology alongside a quality timber source ensures that you, the customer, is receiving a high quality engineered product.
Our business is manufacturing laminated timber beams straight, pre cambered & curved under strict licensing authority.
Laminated Beams Licensing Numbers:
2785 – AS/NZS 1328:1:1998 Glued Laminated Structural Timber
2786 – AS5068: 2006 Timber Finger joints in Structural Products
Laminated Beams Ltd is a member of:
WPMA – Wood Processors & Manufactures Association
Standards NZ – S "Mark" Quality
Nationally Laminated Beams is a supplier to NZ's major trade merchants:
We are able to produce beams to a maximum width of 900mm, strength (GL8,10 & 12) & up to 22m in length due to our unique facility set up.
We have photos to show of some of the projects that have been undertaken by the team at Laminated Beams Ltd. These include DOC bridges all around NZ for cycle and walking tracks, a plane hanger for Mystery Creek Hamilton, Churches, Pergolas, private and commercial buildings.
All our engineered structured products are backed by Producer Statements and are sealed with a temporary film forming sealer as required by the building code.