Masters Builders – Commercial Projects Awards
Congratulations to First Principles Architects & Form Building & Developments for winning the Special Award for the Mangatawa Tari project. We are grateful to have been given the opportunity to be a part of the process & supply the Glulam Beams.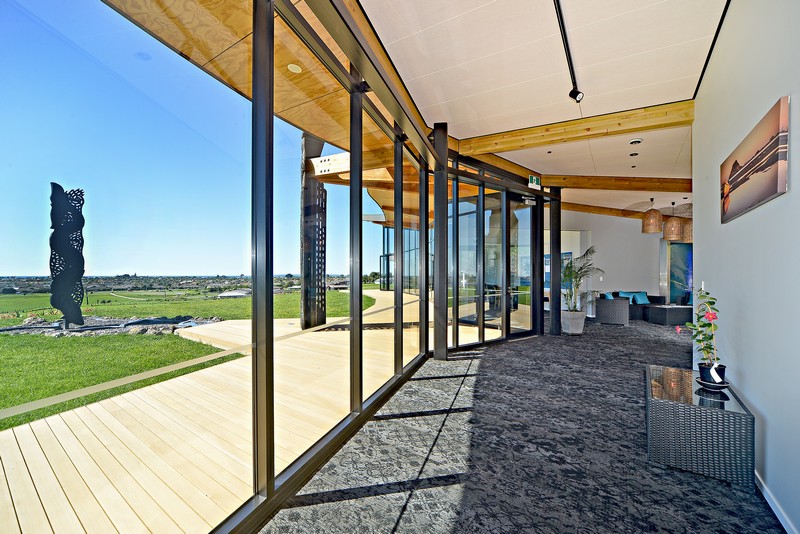 Bay of Plenty Polytechnic Visit
This morning we had Bay of Plenty Polytech come in to learn about the laminating process.
We're proud the Bay of Plenty Polytech see us as a company they can incorporate into their curriculum to boost the education of their students.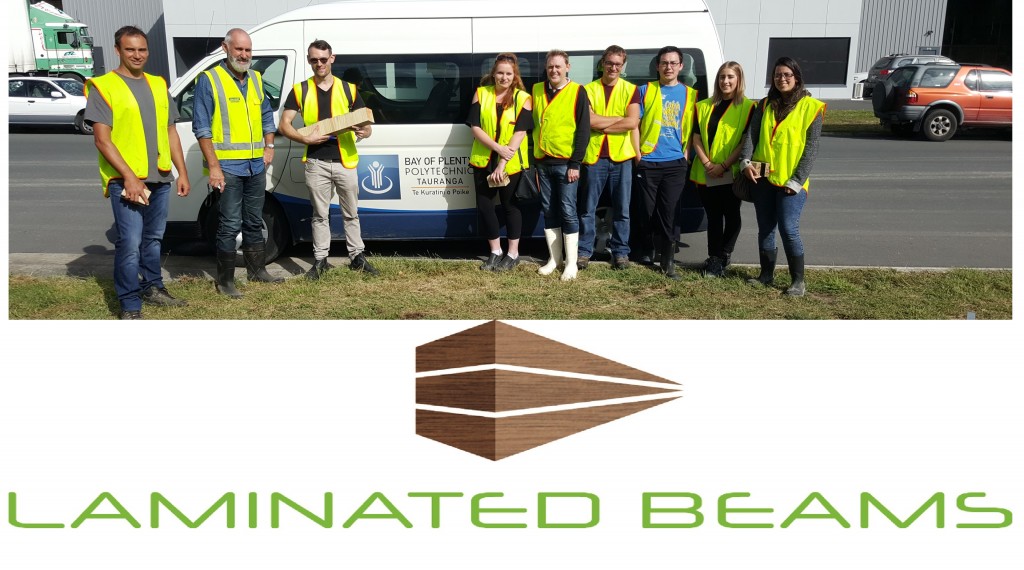 Building Innovation NZ Magazine
We've recently featured in the Building Innovation NZ magazine! Click through the magazine below to check out the coverage.
Facebook
Laminated Beams Ltd have now embraced the Facebook platform & given you another method of keeping up with what we're up to. Click on the Facebook icon to check out our Facebook page.
Cricket World Cup 2015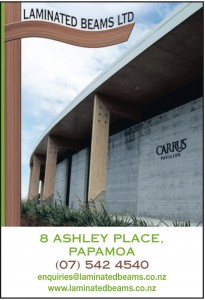 Laminated Beams Ltd are proud supporters of the Cricket World Cup 2015 here in New Zealand.
Look out for our advertisement in your Bay of Plenty Times fold out fixture time table.
Commitment to Quality Brings Results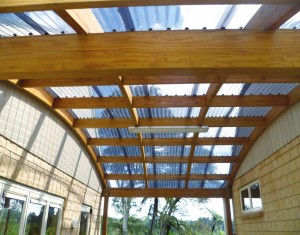 Article from Business North, December 2013 
Grant and Leanne Paget have invested a lot of energy, attention and commitment to make their business the success it has become.
Laminated Beams had been in operation for over 21 years when the couple took it over six years ago.
Since then, their vision to produce the "highest quality, beautifully crafted" laminated beams and associated products, has seen them invest in the best plant and people to make that vision become a reality.
Leanne Paget describes Laminated Beams as "a little company that still do the big stuff".
The couple acknowledge that their team are the backbone of the company and integral to its success. "The boys work so well as a team. They have their eyes on the ball to produce a quality end product," she says.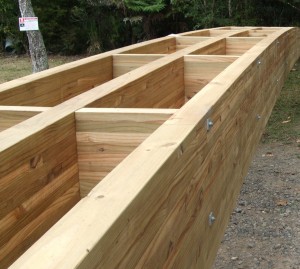 Even during some pretty tough times, when a lot of competitors have arisen, the Paget's have been stoic in their resolve to not allow standards to slip.
"We are not as automated as some others are. The boys are hands-on. They see the product through its processing stages and their feel and ownership in what they make."
Laminated Beams specializes in making curved beams and its products have been used in some stunning buildings.
Projects have included the DC3 hanger at Mystery Creek and a recently completed project at the international cricket pavilion at Mount Maunganui's Blake Park. It also produced all the exposed beams in Mt Maunganui's surf clothing shop, Backdoor. It also made the stunning curved poles that feature in Whakatane's Te Whare Wananga O Awanuiarangi.
Laminated Beams has also provided the beams of bridges for the Department of Conservation's cycleways and walkway project throughout the country and are just as competent in producing residential structures like pergolas, trusses and lintels.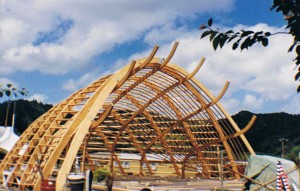 Laminated Beams supplies both standard and made-to-order beams and other products which are sold through timber merchants nationwide.
Leanne Paget says they pride themselves on the quality of the glulam timber products, with stringent on-site testing – along with twice yearly external audits – ensuring that standards and being maintained to a high level.
"We have our own testing machine and we're continuously assessing the strength of the glulam joints and finger jointing."
"There is a lot of testing and records kept of daily temperatures, glues used and moisture content in the timber."
The core team along with Grant Paget and on-call tradesman form the nucleus working at the companys Papamoa factory; supported by Leanne in customer service and Jan in administration.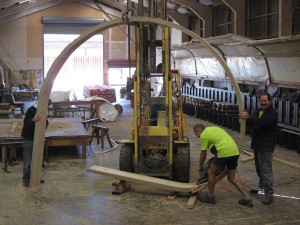 Leanne Paget says Grant is very precise and particular.
"He is always directly involved if an unusual or especially demanding order comes along. Carrying a building background his connection with the industry spans back some 30 years in all."
"We can produce any length beam up to 23 meters, and we work with all the native timber species."
"When we made the beams for the cricket club a special feature we enjoyed creating was an insert of Kwila into the big beams. It looked really stunning"
It generally takes about three to five days to produce the end-product from order. In the last couple of years the Paget's have observed a proliferation of laminated products.
Leanne puts this down to the fact that the end results are visually more pleasing from alternatives used.
"In terms of strength, a seismic quality, design of any shape, acoustic qualities, integrity and aesthetic appeal lamination offers a whole new way of approaching design."
Something architects and designers are increasingly turning towards where quality counts.